Announcing Make the Game
Learn how to make & sell indie games in Make the Game with Matt Hackett, the new podcast/video series!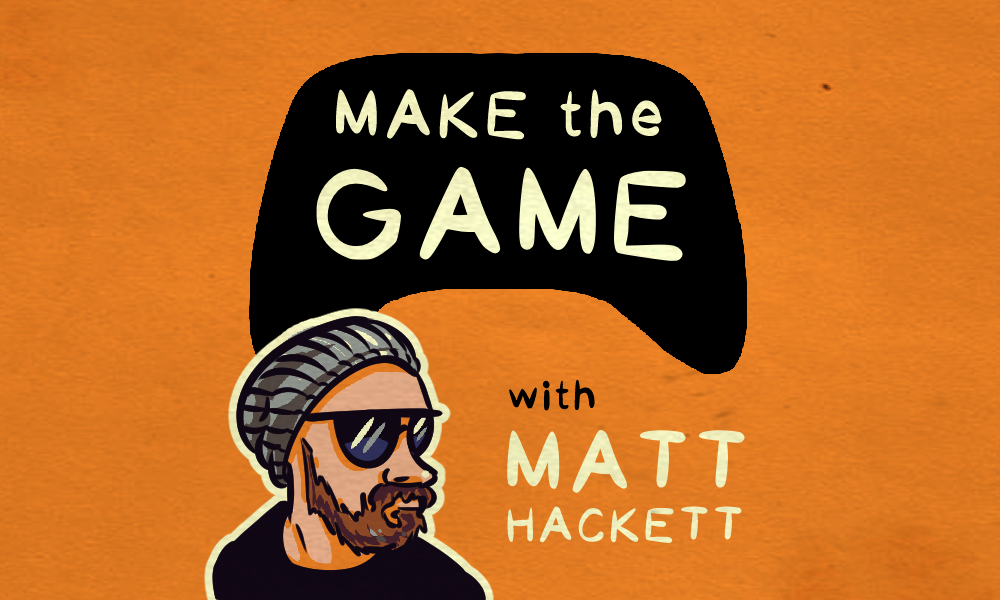 Good news for ears! Today I'm launching my new podcast Make the Game with Matt Hackett. The first two episodes are ready NOW and you can listen below:

Here are some of the places where you can also listen:
Subscribe with your favorite app and if you like the show, you know what to do! Rate it, review it, write some kind words, tell your friends, feed the universe with your Enthusiastic Game Dev Podcast Listener™️ vibes and I will redirect that positivity directly into each episode! What oh yeah there's also an RSS feed.
Over a decade of podcasts
I've been podcasting since 2011 and thinking about creating a show like this since 2017, when my previous podcast Lostcast halted. But work got in the way, and then: what would a new show be about? I struggled with these things for a while but recently everything just kind of came together.
Make the Game is about making games. Beyond that, we'll discuss many of my favorite topics which include:
Solo development
Finding your passion
Marketing your games
Making every part of a game
Unexpected sources of inspiration
There will also be a healthy dose of guest developers to keep things interesting.
The first two episodes
Make the Game: Building a career's worth of games industry knowledge covers a wide range of game dev resources for you to explore, including a small list of finely curated, AMAZING videos and articles that I just can't stop recommending I love them so much. This episode is guaranteed to leave you with plenty to chew on.
And the second episode is called Saturation Time with Matt or something I don't remember exactly but it's definitely all about cool game design concepts or something. If you click on the links plastered all over this page and I'm sure you can help me remember the title. It's gotta be there somewhere.
Record a voice message for me and the show
Lastly, from the Anchor page you can record audio and send it to me. Ask a question, suggest a topic, or just make weird noises to creep me out. If it's useful I might include it in the show!
More coming, subscribe to get it
Listen, subscribe, and stick around! This is only the beginning. Episode 3 is in the works and episode 4 um ... I mean I'm getting sleepy but I'm sure I'll record it and it'll be good. We're gonna make some games and have some fun. Get in there!